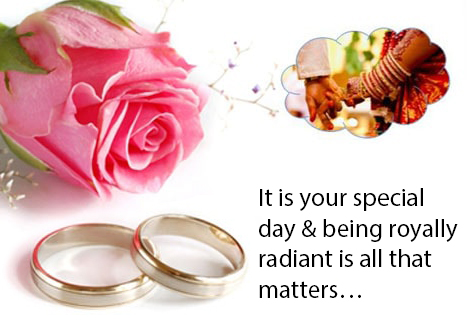 Your wedding day is a day for you to truly shine – look and feel your very best, from the inside out! Pamper yourself with our Bridal Spa Packages and experience the benefits of the best organic treatments for your picture perfect day!
Prepare for this joyous occasion with friends and family or simply relax by yourself. Our wedding spa packages help to reveal skin that is glowing and radiant while your body and mind enjoy calm and relaxation. We also specialize in three to six month plans for your skin and brows to make sure you look your best for the special day.
This package ensures to make Body beautiful, Skin even toned, soft supple and radiant, makes Hair glossy and calms the Mind.
The Package contains …
Sarvang Abhyangam (Full Body Massage)
Sarvang Udvartanam (Complete Body Scrub)
Sarvang Svedanam (Full Body Steam)
Mukhalepanam (Special Face Massage)
Shiro Abhyangam/Shirodhara (Oil Stream/Head Massage)
Aromatherapy
Bridal package is avilable in three different packages.