Greeva / Spondylosis Basti
(For Neck Pain / Cervical Spondylosis)
---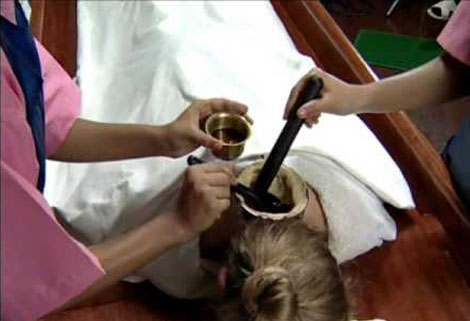 GrivaBasti is the procedure in which medicated oils are poured and pooled for a fixed duration of time in a compartment or a cabin constructed over the neck or nape of the neck (back side of the neck). This Basti is indicated in pain full condition of cervical region like, cervical spondylitis, spondylolysthesis, disc prolapse, ankylosing spondylitis, rheumatoid arthritis etc.
Ayurveda offers the best remedies for neck pain and related painful conditions. Among all the remedies available for neck pain (acute and or chronic), Greeva Vasti (Greeva Basti) is the most popular one.
It gives a magical relief from the pain and stiffness associated with neck pain and in many cases a long standing one too. When Griva Vasti is combined with effective treatments like Nasya (nasal instillation of medicines), Abhyanga (massage with herbal oils), Patra Pinda Sweda (leaf bolus fomentation) etc and disease modifying drugs and compounds, it provides a significant and appreciable relief in many painful neck related conditions like Cervical spondylosis etc.
Benefits of Greeva Vasti are :
Relieves pain in the neck, shoulders and upper limbs
Relieves stiffness in the neck, shoulders and upper limb
Relieves swelling and inflammation in the neck, shoulders, in the bones and soft tissues of the neck
Brings lightness and a sense of health in the upper portion of the body
Improves movements of the neck and upper limbs and enable us to move and work freely
Strengthens the neck, shoulders and arms
Soothes the nerves supplying the neck, shoulders and arms (upper limbs)
Enhances blood supply to the neck and upper limbs
Alleviates associated conditions like headache, dizziness etc