Kati Basti
(Ayurvedic Therapy for lower back)
---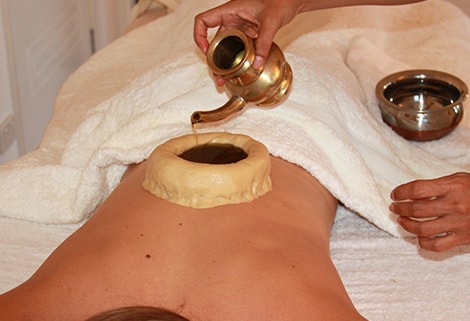 Kati basti is a medicinal oil treatment for relieving tensions of the lower back. The patient lays down on their stomach, a ring is fixed on their back with a paste made of a special flour and water. The therapist poors very warm oil inside the circle, this sesame-based oil relieve all tensions and will penetrate deep into Ashti dhathu (the bone tissues).
Kati Basti (Vasti) is a traditional Ayurvedic treatment used for lower backache and disorders of lumbosacral region, including slip disc,lumbar spondylosis, sciatica, spinal problems etc. Kati Vasti is a part of external oleation (Snehana) therapy in Ayurveda. It is very safe, non-invasive.
In this procedure, you will get instant relief from the backache. After completing a course of 7 to 21 days, you may not need any kind of oral medicines. It is a complete therapy for back pain and lumbosacral disorders. However, the results vary person to person, but in most of cases,people get quick relief after the procedure.
Kati Vasti is beneficial in all types of back and spinal problems. Some of them are listed below:
Backache
Backache in women
Sciatica
Intervertebral disc protrusion
Lumbar spondylosis
Lumbar spondylitis (Inflammation of lumber joints characterized by stiffness, tenderness and pain)
Slip disc
Degenerative disc disease