Shirolepa
(Ayurvedic Hair Mask/Paste – hair packs)
---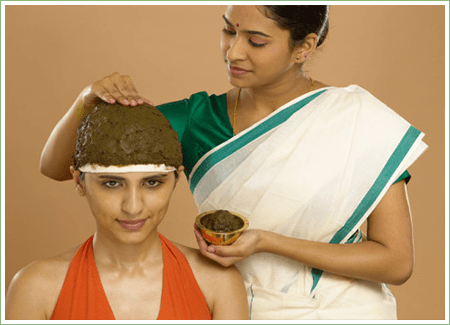 The application of herbal paste on the patients head is called Shirolepa. Ancient Ayruveda helped us discover the goodness of natural ingredients.
A natural hair pack greatly improves the overall quality and appearance of your scalp and strands. Environment pollution, sun exposure, chlorinated water, excessive shampooing and styling your hair can damage your hair more than what you've expected. To restore the lost shine and luster, women try out different commercial products available in stores. These chemical products contain harsh chemicals and synthetic compounds, which cause more damage to our hair. To fix this problem a good natural hair care is required.
Depending on the type of hair problem like hair growth, split ends, boils on scalp, dandruff etc. appropriate hair paste can be applied. It improves the luster and the overall health of the hair.