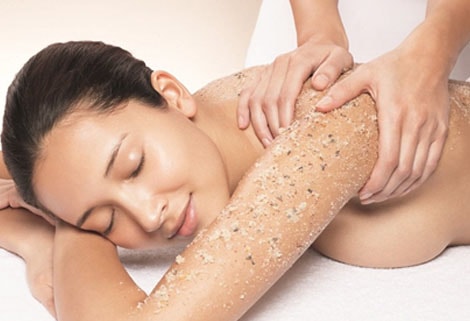 Body polishing is a popular body treatment that exfoliates and hydrates the skin, leaving it smooth & soft. It is a treatment of the entire body. It is best to get the treatment done at a spa.
A body polish is a primary remedy for attaining radiant skin, its just like a facial for your body.
Benefits of body polish are
One of the most common benefits of body polish is that this treatment exfoliates the dead skin cells.
It is important to remove dead cells because the dead skin layers make a person's face and body appear unhealthy, dull and unattractive. A polished skin on the other hand looks attractive and provides a fresh feeling.
The skin becomes softer, smoother and supple after the procedure.
Body polish makes the skin more moisturized and hydrated than before.
This procedure will remove oil and dirt buildups that clog the skin pores.
The polish stimulates the skin cells to generate fresh and healthier layers of skin.
Some supporters of alternative healing believe that this procedure has numerous therapeutic benefits as well.
The time during the procedure of body massage provides some valuable and rare time to reflect, and forget all of the troubles by relaxing the mind and making it carefree.
The professional movement of the hands with a gritty texture will help in blood flow and re- energies the body.
Besides removal of dead cells the treatment will also help in the production of new cells. The body polish will hydrate the skin and provide a healthy glow and a softer, more youthful complexion from top to toe.
A body polish is the ideal preparation before undergoing a spray tan or applying any other body tanning product
Dead cells, dirt and oil build up on the upper layer of the skin can also prevent topical creams from working properly. A body polish will prepare the skin in which these products can be more easily absorbed.