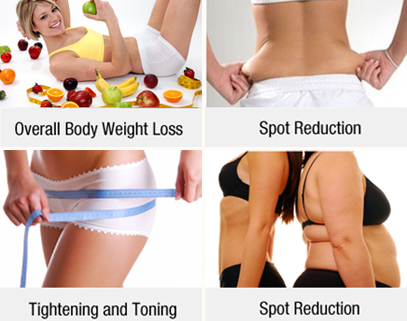 Revolutionary non surgical technique
No pain, no surgery, no downtime, no bruising, it's not water loss – in fact after each session, you will feel 'happy hormones', this is a feel good treatment that you can enjoy and the bonus – you will see your body change quickly!
Features :
Beautifies body in a medical way.
Completely painless treatment.
Reduces cellulite.
Fat and Circumference Reduction.
Improves Skin's texture.
Targets localized fat tissues that are resistant to diet and exercise.
Non-surgical with no side-effects.
Treatment for complete slimming.
Non-Invasive body reshaping treatment.
Elective firming of specific and most difficult body portion i.e. buttocks, abdomen and thighs.
Spot & Volume Reduction.
Removal of dead skin cells on the outermost surface of the skin through gentle exfoliation.
Clinical Combination Therapy.
Ideal for cosmetic problems like aging skin, sun damage, discoloration of skin and appearance of fines lines due to the aging process.
Extraction of Comedones (Black and White heads).
Improves tone and texture of the skin.
Rejuvenation of sun damaged skin, neck, shoulders, back, arms and legs.
Reduces fine lines & wrinkles.
Stimulates production of natural collagen and elastin.
Anti-aging : Re-tones, re-tightens & re-educate facial muscles.